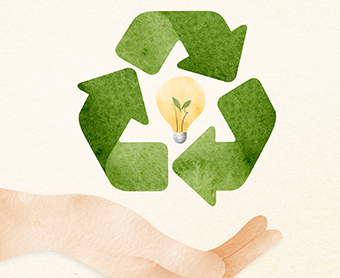 1st ONLINE TREE PROJECT TRANSNATIONAL MEETING
The first online meeting of the "Micro and Project-based learning for Teaching ciRcular Economy and Ecological awareness in VET schools (TREE)" project was held on 14th December 2021; on this date the project was presented by the coordinator eMundus, with the aim of explaining the essential aspects of the entire project: the expected results, objectives, and partnership, the finance and administration rules, the dissemination and exploitation strategy.

The TREE project aims at increasing the employability of VET students through the creation of an innovative course on education for Sustainable Development (ESD) and to promote the Circular Economy (CE) through the infusion of new "green skills".
To reach this general objective, the project will aim to attain the following specific objectives:
Integrate the teaching of CE and sustainability into VET schools' curricula and subjects taught;
Create a closer link between VET institutions and businesses that adopt sustainable practices;
Increase the attractiveness of VET schools;
Promote the adoption of eco-friendly practices in students' daily life;
Support and encourage the transition from a linear economy to a circular economy.
The meeting started with the welcome to the participants by the project coordinator, the adoption of the agenda, and the presentation of each project partner (their competences, work and experiences in European projects) in order to get to know each other and to start to build up a solid base for the future cooperation. eMundus went ahead with the presentation of the following topics:
- The description of the project context, objective, results, target groups and timetable of activities; transnational partner meetings and training activities were outlined, as well as tools and methodologies for the development of the three outputs;
- the explanation of the project's budget structure and of the administrative rules;
- the main characteristics of the dissemination, exploitation and sustainability strategy;
- the internal database.

Project partners:
- Coordinating institution Public institution "eMundus" (Lithuania)
- S.A.F.E. Projects (Netherlands)
- Kedainiai Vocational Educational Training Centre (Lithuania)
- Valga County Vocational Training Centre (Estonia)
- Zinev Art Technologies (Bulgaria)
- Vocational school "Prof. Dr. Asen Zlatarov" (Bulgaria)
The TREE project has been funded by the European Commission under the programme Erasmus+ KA220 – Cooperation partnerships in vocational education and training.
For more information about the project, visit treeproject.eu
Follow us on:
- Facebook: @TREE.project.for.teaching.circular.economy
- Instagram: @tree_euproject
- LinkedIn: TREE project