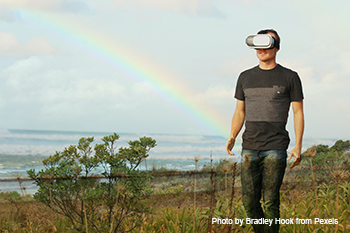 Application of virtual reality technology for educational tourism
In February, 2021 activities started in the "VRSciT: VR Science Tour" international project, which is developed under Erasmus+ programme.
The proejct aims to explore new approaches in educational tourism, such as 3D modeling together with 360º immersive VR (Virtual Reality) environments to build innovative virtual educational scenes, from four different countries.
The project consists of conducting a virtual educational visit to locations of cultural, social and natural interest of each partner involved, from Portugal, Spain, Italy, and Lithuania, by using Virtual Reality immersion and interaction techniques to provide users a unique learning experience. VR technology adoption removes the barriers of remote visualization of environments making possible for everyone to experience a high educational value through digitalization.
People who experience the VRSciT SPOT will be able to make an immersive trip, not only in the landscapes of the Northeast region of Trás-os-Montes, but also to travel through the landscapes of the regions of the other partners, thus increasing the visibility of all the contemplated regions and a clear confirmation of the European-wide partner entities. Providing access to scientific information and educational activities for people with different social backgrounds will allow less favored people, such as people with less economic power or physical disabilities, to access recent technologies, promoting inclusion by allowing unrestrained access and interaction with technology that otherwise would not be possible.