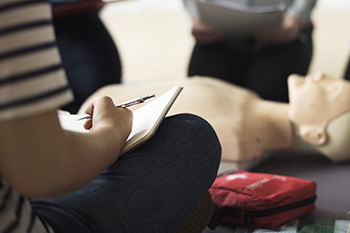 Associated partners of the international project TirAmISu discussed first aid education issue in schools
On the 27th of February, 2020, Vaižgantas progymnasium of Kaunas University of Technology has invited the associated partners of the international project TirAmISu (First Aid Improves Survival) to learn more about the project and the expected results, to share experiences and expectations about first aid education in schools.
The meeting was attended by representatives from Kaunas City Municipality Health Care Division, Kaunas City Public Health Bureau, Public institution Kaunas City Ambulance Station, Lithuanian Association of Paramedics, St. Ignac Loyola College, King Mindaugas Vocational Training Center, Kaunas "Santara" Gymnasium, Public Institution "eMundus", Lithuanian Distance and e. learning association.

Lydija Merfeldiene, Director of KTU Vaižgantas progymnasium, started the meeting and thanked the representatives of the institutions cooperating in the TirAmISu project for their attention to the topic of first aid education and professional support for the aim of the project.

Renata Kudukytė-Gasperė, Head of Kaunas City Municipality Health Care Division, Chief Physician of the Municipality, welcoming the participants of the meeting, also stressed the importance of first aid payment to people of all ages, increasing need for first aid education in Kaunas every year. like the Citizenship Games. And the fact that people are more bold to give first aid before Ambulance arrives is a testament to the improving statistics of the revived people.

Irena Dabulskienė, head of the Nursing Unit at Kaunas Ambulance Medical Station, noted that their institution started organizing first aid education activities for students of all ages, even kindergartens, as well as adult groups a decade ago. The station is equipped with a great first aid training base. Irena Dabulskienė stressed that the need for training is huge, but according to the facilities of the institution, they accept groups of students for training on Fridays by pre-registration on the station's website: http://greitojipagalba.lt/appointment/

During the training, students get acquainted with GMP activities, observe dispatcher work, and inspect GMP car medical equipment. The training classroom teaches the use of simulators for initial resuscitation, how to help with choking, how to stop external bleeding, what to do in the case of suspected myocardial infarction, stroke, and how to help a variety of injuries. According to the GMP Station's Nursing Unit Manager, a 12-year-old can already learn to resuscitate, with training dummies responding, so learning whether or not chest presses are sufficient. Over a decade, GMP has hosted over 600 training events, trained nearly 3,000. pre-school children, over 9 thousand. school-age children. The sum of trained people of all ages makes an impressive 17,000. number of first aid trained persons. School teachers can take advantage of the interactive first aid course on the GMP website: http://www.greitojipagalba.lt/pp/index.html

GMP Station also organizes a volunteering program. Volunteering is possible from the age of 16 (parents under 18 require parental consent). Those who want to volunteer should be physically fit and motivated, tolerant and compassionate, and have no bad habits. After consistent training, volunteers assist GMP brigades in the calls. John, a student at Kaunas Santara Gymnasium and a member of the Young Paramedics Circle, who attended the meeting, shared his involvement in this voluntary activity. John is delighted to have a wealth of practical knowledge and did not hesitate to resuscitate a man on holiday with his parents abroad. While still very young, John feels he has found his calling, plans to study medicine and continue to help people. About 200 volunteer youths participate in the GMP Volunteering Program each year.

Tautvydas Lukavičius, Head of Children and Youth Health Care Unit, a representative of Kaunas City Public Health Bureau, told that their organization will be organized in 2018. and organized a first aid training project in educational institutions, which organized 50 first aid training events for over 2000 students. This year, this project will be extended, with another 25 training sessions for grades 5-8 planned. for students. Another training project starting this year is to train first aid teams from different organizations. The school's 86 public health professionals also provide students with basic health and first aid knowledge in the event of an accident. Each year they shine over 5000 thousand. of pupils.
2018 The Public Health Bureau has run a project funded by EU funds, whereby MB Creative Group created a mobile application called "Urgency" that may be of interest to teachers, their students and parents. Mobile application for all Kaunas city students and residents who need urgent medical emergency information: Kaunas city defibrillator map, systematized, student-friendly and attractive literature and information about emergency medical first aid, educational video, first aid training places in Kaunas and Kaunas , consumer surveys and questionnaires, educational games for students. The application can be downloaded to your mobile device by clicking on the link: http://www.kaunovsb.lt/english/mobile/applications/174

Monika Čiukšytė, a member of the Lithuanian Paramedical Association, told us that this association has been operating for a century. Its members are ambulance staff. Some of the activities of the association are also educational, providing first aid training in schools, events, projects, cooperating with many youth, volunteering NGOs, self-monitoring and organizing volunteer vigil during mass events. The members of the association see great importance in teaching young people practical skills of first aid; in Lithuania there are cases when children of very young age are successfully called by their relatives.

St. Helena also cooperates with schools in first aid training. Ignac Loyola College, which organizes a three-year Emergency Medical Study Program. College spokeswoman Ieva Kasciuškienė said that all their graduates are very welcome to work at the Ambulance Station.

It is a popular program among Paramedics for young people, lasting one and a half years. This program is organized by the King Mindaugas Vocational Training Center. Vaida Prakapienė, Head of Health Care at the Center, informed that their teachers and students are also willing to cooperate with schools and participate in events.

Jonas Lubinas, Donatas Chanko and their Biology teacher Rimutė Aurutė Valauskienė from Kaunas Santara Gymnasium were surprised by the continuous activity of the Young Paramedics Circle. It is most interesting for young people to compete in knowledge and first aid skills, so the group organizes a national first aid competition. Last year 21 teams from different Lithuanian schools took part in the competition, plans to organize the competition this year, and promises to invite students from the 8th to 12th grades. The youngsters presented video clips to the participants of the meeting on how first-aiders practice in practice.

From the 1st of October, 2019, Vaižgantas progymnasium of Kaunas University of Technology has been running a two-year international project TirAmISu (First Aid Improves Survival) and is working with project partners from 4 European countries - Italy (Project Coordinators - Consortium) there are 40 schools (the administrative body and the university), Poland (the school), Lithuania (the associate partners) and Romania (the university and the school) and the Italian association is the managing body of the project.

Lithuania is represented in this project by associate partners together with Vaižgantas progymnasium of Kaunas University of Technology, Kaunas "Santara" gymnasium, Prienai "Žiburys" gymnasium, Trakai Vytautas Magnus Gymnasium and Visaginas Technology and Business Vocational Training Center. Institutions - Professional Guardians and Information Partners: Kaunas City Municipality Health Care Unit, Kaunas City Public Health Bureau, Public Institution Kaunas City Ambulance Station, Lithuanian Paramedical Association, St. Ignac Loyola College, King Mindaugas Vocational Training Center, Kaunas Teacher Qualification Center, Lithuanian Distance and e-Learning Center. Learning Association, eMundus.

Outcomes of the project: e. a training course on the human structure of how important it is to know in first aid for students aged 14-18; first aid guide; interactive decision-making program - students will put their knowledge into practice by providing first aid in a variety of teens' life situations.

Information and updates on TirAmISu are available online at www.tiramisu.pixel-online.org.

The TirAmISU project is funded by the European Union under the Erasmus + Strategic Partnership for Innovation programme.