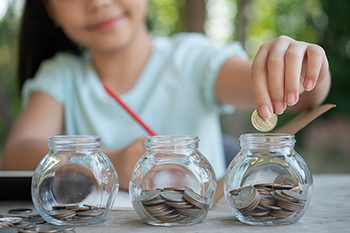 The DigiFinEdu project set to promote financial literacy among primary and lower secondary education pupils. The work with partners begins.
On 4th of February 2022, following the launch of the DigiFinEdu project, the project partners held an online meeting to greet and get acquainted with each other as well as to give an overview of the project's aim and objectives, activities, and expected results. The purpose of this meeting was to present the administrative, financial rules in detail and to answer any questions that may arise.
The Promotion of Financial Literacy in Primary and Secondary Education Through Gamification and Digital Storytelling (DigiFinEdu) aims to increase, primary and lower secondary education pupils (9–12 y. o.), financial literacy (FinLit), to help them become financially resilient adults. To reach this general objective, the project will aim to attain the following 4 specific objectives:
To promote the implementation of FinLit in primary and lower secondary education;
To improve parents' and teachers' competencies in teaching FinLit;
To increase parents' inclusion in their children's education process;
To raise awareness about FinLit education policies and strategies on a national and international scale.
During the meeting, all partner institutions gave individual introductions. They emphasised and shared their experiences, insights, and challenges related to financial literacy.
The meeting consisted of a thorough presentation on the project, its activities, and their deadlines; all practical questions regarding the February 24–25 DigiFinEdu partners meeting in Raseiniai, Lithuania (hosted by Raseiniai Saltinis Progymnasium, the coordinating institution of the project, and public institution eMundus, the partner institution aiding in the organisation of the meeting) were answered.
Upcoming meeting will cover the activities, templates, content, and the distribution of responsibilities for the first result of the project (R1: DigiFinEdu Methodological Material) as well as the Dissemination Strategy and the Quality Assessment Plan. There will also be a dedicate time for a workshop to test the Impact+ tool. The project partners will discuss the benefits of involving associated partners and share experiences as well as good practices in project collaboration with stakeholders.
Project partners:
1. Raseiniai Saltinis Progymnasium (Lithuania)
2. Public institution "eMundus" (Lithuania)
3. Foundation for the Development of the Cultural BPOCS (Bulgaria)
4. AKOE (Spain)
5. CREF (Portugal)
6. Youth Initiative Center (The Netherlands)
The DigiFinEdu project is developed in the framework of Erasmus+ KA220 – Cooperation partnerships in school education. The project is funded by the European Commission.
For more information about the project, visit: digifinedu.eu
For further information on the project and digital literacy, engaging material and related events: @Digifinedu