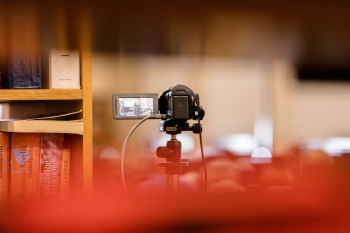 PS.smile international conference
On June 30, 2022, the international conference "The importance of developing socio-emotional education: good practices and trends" was held in Kaunas, Lithuania.
The event, which falls within the framework of the Erasmus + "Socio-emotional Capacity Building in Primary Education" (PS.smile) project, was orgnanized by VŠĮ "eMundus", the project leader. For the occasion, guests from Lithuania and the other partner countries attended the conference as speakers, offering very interesting insights on the implementation of socio-emotional learning in their countries, as well as providing participants with useful insights on other related topics, such as as Universal Design for Learning (UDL) and the promotion of mental health in schools.
The event was very well eveluated among the participants, who particularly appreciated the quality of the presentations and the topics addressed. It was a perfect opportunity to get more involved with the Lithuanian schools associated with the project. Teachers and principals who attended the conference had a great time and loved sharing their experiences and perspectives with experts from other European countries.
Video of the conference: https://youtu.be/IJsRz8GyN5E
Presentations:
PS.smile-framework-across-lifespan_Teresa_M_Sgaramella
SEL-and-mental-wellbeing_Miglena_Molhova
A-journey-of-change_Catia_Giesteira
From-Easy-to-Simple_Joao-Canossa-Dias
Moments of the conference: